Business development in Asia
One of my major achievements was to open up the Asian market by conducting market research and getting a first project with the Asian Development Bank (ADB) for the Consortium for International Development in Education (CIDE).
The overseas training program for upper secondary and professional teacher development project was to support the training of staff of the Ministry of Education of Vietnam and Vietnamese principals through a partnership with several Canadian colleges and universities, including McGill University and the University of Toronto.
I set up a satellite office in Hanoi to make the selection and to prepare 24 participants. The Asian staff recruited subsequently supported various efforts to respond to calls for tenders for projects in education in Asia.
I also developed a network of contacts in Montréal and Toronto, enabling better integration during official visits, including interpreter services.
Finally, I set up a Web platform in 2 languages ​​(Vietnamese and English) to make all relevant information available to participants.
The project is one of many other technical assistance projects that I coordinated for the CIDE, which included projects in Cambodia, Laos and Mongolia.
Investment plans and financing strategies
I developed fifty projects, some worth over C$10 million, as head of business development for CIDE, and thirty projects for Oxfam-Quebec (OQ).
At OQ, between 2011 and 2013, I participated in the development of a five-year investment plan for Oxfam International to ensure the growth of small and medium-sized Oxfam affiliates. The Oxfam Confederation has 15 affiliates worldwide, including Japan, Hong Kong, Great Britain, France, Holland and Australia.
In addition, I developed joint strategies with more than ten new OQ institutional partners.
These partnerships have enabled the organization to negotiate access to new financing through the affiliate's donor, including the French development agency (AFD). These funds were to support OQ's programming in West Africa, North Africa and the Middle East, as well as in Vietnam.
Among financial arrangements for the École de technologie supérieure (ETS), are agreements with science and technology funding agencies in Peru (CONCYTEC) and Ecuador (SENESCYT). These agreements have helped secure funding for thirty doctoral students at ETS, covering their tuition fees and living expenses.
COLLABORATION IN RESEARCH AND INNOVATION
Through an analysis of opportunities in the Latin America and a series of targeted interventions, I acted as a Senior international adviser for the École de technologie supérieure (ETS) for the negotiation of several bilateral agreements frames in Latin America.
In 2013–2014, I led and supported the arrival of delegations from many countries, such as Brazil, Columbia, Costa Rica, Peru, Ecuador and organized missions in Ecuador and Peru with researchers from ETS. I also participated in the CONACYT promotional tour in Mexico.
Research collaborations between ETS and partner universities were among the programs negotiated, specifically with the head of research programs in aerospace, robotics, renewable energy, environment, health and safety, health technologies, and many other engineering programs.
SUMMER SCHOOL GOVERNANCE IN THE AMERICAS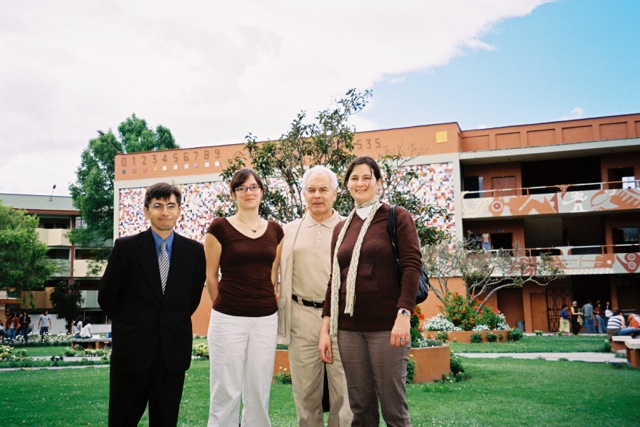 As program manager for the Inter-American Organization for Higher Education (IOHE), I worked at the organization of the Summer School on Governance in the Americas. This project was jointly organized with the Organization of American States (OAS) and the Universidad Técnica Particular Loja (UTPL) in Ecuador, from November 7 to 13, 2007.
A total of 40 people participated in the training program and in discussions and presentations, including 25 university leaders, young teachers and Ph.D. students from countries of the 6 regions of the IOHE: Central America (Honduras), Canada, Colombia, Southern Cone (Uruguay, Paraguay, Argentina), Mexico and the Andean countries (Ecuador, Bolivia, Peru, Chile).
Despite the difficulties in recruiting candidates caused by the change of venue of the seminar a few weeks before the event, the selection committee was able to identify very high profile candidates to achieve the goals of forming an impressive group of young leaders.
Suggested Reading
Gobernanza y democracia en las Américas: experiencias e investigaciones de campo 
Mayo 6 y 7 de 2008
76 Congreso del ACFAS (Asociación Francófona para el Saber)
Centro de congresos de Québec
INTERNATIONAL EVENTS: PARTNERS FOR SUSTAINABLE DEVELOPMENT
Initiator of the international conference "Partners for Sustainable Development," I implemented a series of activities, including a tour of regional conferences throughout Québec, and a major international conference with big names like David Suzuki and A. Jacquard.
This initiative brought together various project sponsors, partners, such as the Institute of Environmental Sciences (UQAM), Montréal's Biodome, school boards, international NGOs and environmental organizations. Funding was provided by CIDA, IDRC and 6 provincial government departments, through a joint strategy that I conducted with the support of the Coalition of regional environmental councils of Québec (RNCREQ).
Campaign to promote literacy in Morocco
I was the Senior Director for this project in 2010, to implement a communication strategy for the promotion of functional literacy in Morocco.
MCA-Morocco program is funded by American cooperation, through the Agency of Partnership for Progress (APP) in partnership with the Millennium Challenge Corporation (MCC). This program was conducted with the Ministries of Agriculture and Maritime Fishing of Morocco.
At first, I led the development of an inventory with a team to conduct interviews and focus groups on the ground with the public targeted by the program.
This assessment was to identify incentives and barriers to recruiting new participants in the literacy program.
Subsequently I offered the authorities a communication strategy that was implemented by a team of consultants in Morocco, for which I provided the leadership.
This team was composed of experts and a film director, an audio-visual production team, a field coordinator, a webmaster and a graphic designer.
During the closing activities of the literacy program, it was stated that the program's goal was largely achieved with the training of 69,731 people, of which 67% are women.
Communications Plan for the Ministry of Education of El Salvador
The objective of this consultation, carried out in 2009, was to support the Ministry of Education of El Salvador in the development of a communications plan to integrate a technical and vocational component into the education ministry's action plan.
The mandate was related to communications, including the completion of a field investigation and focus groups with different target audiences.
This work was done in partnership with the implementing agencies and departments involved in technical and vocational training in the country.
I subsequently proposed strategies to sensitize and mobilize women and youth, and I presented an action plan and indicators to assess the impact of measures to improve perceptions and to bring about behavioural changes related to the strategies and means of communication.